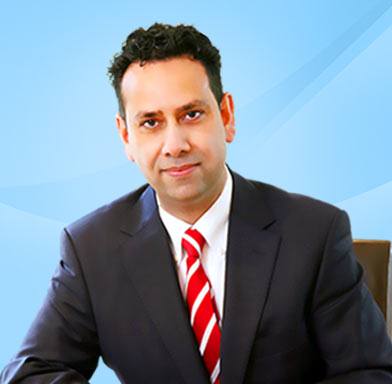 Mo Akmal, MD, FRCS
MBBS BSC (HONS) MD FRCS (ORTH)
Mr Akmal is a Consultant orthopaedic spinal surgeon at Imperial College Healthcare NHS Trust. Graduated from St Marys Medical School in 1992 and then completed surgical training and Doctorate in Medicine (MD) in London. Honorary consultant at the Royal Marsden Hospital and a fellow of the Royal College of Surgeons. Clinical interests include minimally invasive spinal surgery, back pain, trauma and complex spinal tumour surgery. Orthopaedic training on rotation included 3 years at The Royal National Orthopaedic Hospital, 3 years at The Royal London Hospital, 1 year at University College Hospital and 1 year in Oxford for specialist spinal surgery fellowship training. Published and lectured widely on spinal disc and cartilage tissue engineering, osteoporotic fractures, spinal trauma and rehabilitation.
Mr Mo Akmal is Lead Spinal Surgeon at the London Spine Unit. He has a strong commitment to Education and Training and Currently runs the Annual Educational Course for International delegates on Spinal disorders at the Royal College of Surgeons and runs a fellowship program for higher surgical trainees and is an examiner for the final MBBS exams at Imperial College.
Mr Akmal's pioneering work was recently featured in one of London's most popular and widely read newspapers "The Evening Standard"
Mr Akmal is one of the leading voices in the promotion of osteoporotic fracture prevention. He is a board member of The international Society for Fracture Repair and is actively engaged in an educational campaign for the early treatment of osteoporotic vertebral compression fractures. He has been performing balloon kyphoplasty and vertebroplasty for vertebral compression fractures and is on the steering committee for the Osteoporotic Fracture Campaign.
Professional Experience
More than 25 years of experience
Honorary Consultant Spinal Surgeon, The Royal Marsden NHS Foundation Trust (2007- present)
Consultant Spine Surgeon, The London Spine Unit (2005 - present)
Consultant Orthopaedic Spinal Surgeon, Imperial College Healthcare NHS Trust (2004 - present)
Consultant Orthopaedic Surgeon, St Mary, Hospital, London (present)
Education
Certificate of Completion of Specialist Training in Orthopaedics and Trauma (2004)
Fellowship of the Royal College of Surgeons of England, Orth and Tr, London (2003)
Imperial College London Bachelor of Medicine, Bachelor of Surgery (MBBS), Medicine (1986 -1992)
Publications and Conferences
Honorary Clinical Lecturer, Imperial College, London (present)
Prizes and Awards
Spinal Surgery Clinical Fellowship in Oxford, John Radcliffe Hospital for Trauma and the Nuffield Orthopaedic Centre for elective surgery
Mo Akmal, MD, FRCS
19 Harley St, Marylebone
W1G 9QJ, UK

[javascript protected email address]